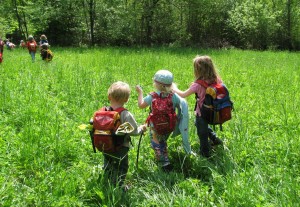 Proposal for a Nature Kindergarten
What is a Nature Kindergarten? A Nature Kindergarten provides young children with large amounts of time in natural outdoor settings where they can play, explore and experience natural systems and materials found there. Engaged outside in all types of weather, children and educators investigate natural phenomenon and learn about the place in which they live. For almost fifty years there have been forest preschools, Waldkindergarten, and "rain or shine" schools in Northern Europe which provide outdoor experiences for children in the early years (3 to 6 years old). Research in these European settings has shown that the children go on to do well in public school. Now, these kindergartens are found in Australia, the UK and New Zealand.
Benefits: Learning from play and from hands-on experiences, children benefit from being outside. Research has shown that children learn when they are engaged and active.  Being able to experience tides, rain and wind, and the coming of spring in the forest enables children to more clearly build understandings of the operation of natural systems, while allowing them to develop emotional and aesthetic engagement with place. Building an awareness of environmental stewardship in this and following generations of children is increasingly important to all. Climbing a hill and running down the other side provides evidence of gravity, as well as expending energy and encouraging balance and agility.
Other benefits include:
Another benefit would be that children would be ready to focus on indoor learning activities after time spent outside using their minds and bodies.
In our school district, this is an opportunity for Aboriginal and non-Aboriginal students to benefit from the wisdom of local Elders. Knowledge of local plants, animals and stories would enrich the knowledge of students and the school community.
The Proposal:
To develop a full day Kindergarten pilot in order to explore the possibilities of children spending part of their day outside engaged with their body, mind and spirit in a natural setting, and coming back to school where there would be opportunities for indoor play-based learning.  This Nature Kindergarten pilot would meet the needs of the prescribed learning outcomes for Kindergarten as well as the goals of the Primary Program and Early Learning Framework.  For this proposal, a school that can access Royal Roads University, Esquimalt Lagoon and the Strait of Juan de Fuca would have a rich environment from which to draw.
Children could explore their local, natural environment and learn to know and understand their home place, developing confidence in being outside while meeting the objectives of the Kindergarten curriculum. Working as a group of learners, they can develop confidence in their own abilities to investigate and to collaborate. Outside, large and noisy movements are acceptable and children who need this type of activity will be able to engage in a manner that supports their learning. All of the children will be physically active and engaged in activities that will facilitate their balance, stamina and strength. All of this play-based outdoor learning will support indoor learning activities that often call for a quieter and calmer presence.
In order to ensure an optimal environment for the children we propose to have a teacher and an early childhood educator to teach the kindergarten students.  This will be a significant opportunity to have educators from different, yet related, educational backgrounds working together as professionals.
Documenting the process will be important. As a pilot it will be important to be able to share our process of creating and implementing a Nature Kindergarten and its best practices.  Further research can be considered to investigate the health impacts on children's fitness levels and overall health, the impacts on their learning and understanding and the strategies used by teacher and educator. Putting in place at the beginning a framework for an impact evaluation will also allow for preliminary understanding of the efficacy of the program.
The Partnerships: In partnership with the Sooke School District is University of Victoria's Centre for Early Childhood Research and Policy, Royal Roads University and Camosun College's Early Learning and Care Program. Practicum students and researchers from these institutions will be resources for the program.
Berman, M. G., Jonides, J., & Kaplan, S. (2008). The cognitive benefits ofi interacting with nature. Psychological Science, 19(12), 1207-1212.
Chawla, L. (2007). Childhood Experiences Associated with Care for the Natural World: A Theoretical Framework for Empirical Results. Children, Youth and Environments, 17(4), 144-170. Retrieved from http://www.colorado.edu/journals/cye/17_4/17_4_07_CareForNaturalWorld.pdf
Kaplan, R. (2001). The nature of the view from home: Psychological benefits. Environment and Behavior, 33(4), 507-542. doi: DOI: 10.1177/00139160121973115
Kaplan, S. (1995). The restorative benefits of nature: Toward an integrative framework. Journal of Environmental Psychology, 15(3), 169-182.
Maller, C., Townsend, M., Pryor, A., Brown, P., & Leger, L. S. (2006). Healthy nature healthy people: 'contact with nature' as an upstream health promotion intervention for populations. Health Promotion International, 21(1), 45-54.
Ryan, R. M., Weinstein, N., Bernstein, J., Brown, K. W., Mistretta, L., & Gagne, M. (2010). Vitalizing effects of being outdoors and in nature. Journal of Environmental Psychology, 30(2), 159-168.
Taylor, A. F., & Kuo, F. E. (2006). Is contact with nature important for healthy child development? State of the evidence. In C. B. Spencer, M (Ed.), Children and Their Environments: Learning, Using and Designing Spaces. Cambridge, UK: Cambridge University Press.
Taylor, A. F., & Kuo, F. E. (2009). Children with attention deficits concentrate better after walk in the park. Journal of Attention Disorders, 12(5), 402-409. doi: 10.1177/1087054708323000
Taylor, A. F., Kuo, F. E., & Sullivan, W. C. (2002). Views of nature and self-discipline: Evidence from inner-city children. Journal of Environmental Psychology, 22(1), 49-63.
Tennessen, C. M., & Cimprich, B. (1995). Views to nature: Effects on attention. Journal of Environmental Psychology, 15(1), 77-85.
Weinstein, N., Przybylski, A. K., & Ryan, R. M. (2009). Can nature make us more caring? Effects of immersion in nature on intrinsic aspirations and generosity. Personality and Social Psychology Bulletin, 35(10), 1315-1329. doi: 10.1177/0146167209341649
Wells, N. M. (2000). At home with nature : Effects of "greenness" on  children's cognitive  functioning Environment and Behavior, 32(6), 775-795.
Wells, N. M., & Evans, G. W. (2003). Nearby Nature: A Buffer of Life Stress among Rural Children. Environment and Behavior, 35(3), 311-330. doi: 10.1177/0013916503035003001
Wells, N. M., & Lekies, K. S. (2006). Nature and the Life Course: Pathways from Childhood Nature Experiences to Adult Environmentalism. Children, Youth and Environments, 16(1), 1-14.