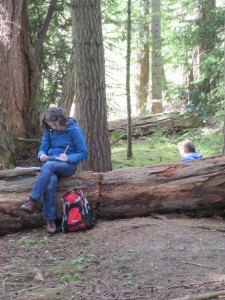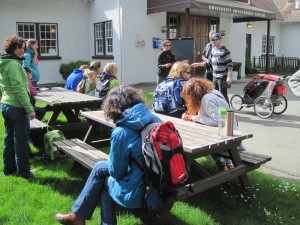 Recently, the Nature Kindergarten team changed the way in which "The Nature Kindergarten Experience" Cont. Studies course is taught.  In response to a recent workshop experience Erin had with Fresh Air Learning in the Lower Mainland, we re-focused the Cont. Studies course on leading participants through a similar experience to the Nature Kindergarten students.  This change meant that most of the workshop time was spent outdoors. 
A couple of weeks ago, Lisa and I tried out the new approach and we had a fabulous experience outdoors with 17 participants who experienced a walk to the Nature Kindergarten site, quiet time with Nature Detective Journals and Circle Time/Check-in.  We also provided an opportunity for everyone to choose from two learning options in the afternoon in an effort to differentiate our instruction to meet individual needs.
The next "The Nature Kindergarten Experience" takes place at Royal Roads University in June.