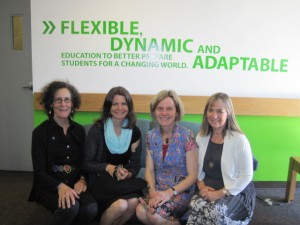 Last month, the Nature Kindergarten team was pleased to be invited to showcase the project at the Ministry of Education and the Ministry of Health.
At the Ministry of Education, recipients of the "Innovation through 'Collaboration Action Research'" grant were invited to share the successes and challenges of their projects on June 14th along with educators from several other school districts around the province.   Lisa, Erin, Frances, Maureen and Enid did a formal presentation and then later participated in a 'topic table' discussion with educators whose projects had a similar outdoor learning focus.
Later in the month, Enid, Ulrich Mueller (UVic professor conducting Nature K research) and Frances were invited to present to the cross-ministries "Healthy by Nature Working Group".  This group has representatives from following government ministries:  transportation, education, health, environment, and child & early development.  The group asked many important and thought-provoking questions, and we appreciated being given an opportunity to share photos, anecdotes and some video footage of the first year of Nature Kindergarten.