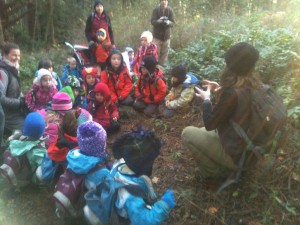 We have had many special guests and events at Nature Kindergarten in the last few weeks! We would like to thank the Francis King Park staff for letting us come and learn all about squirrels as well as explore your forest! We learned so much from you about squirrels and have been sharing this knowledge with others!
We also would like to thank Earl and John who came to our forest to teach us about the many uses of cedar trees! This is a very special kind for tree to our class, so thank you for sharing how important it is to you as well. The oral stories you told us about how trees were created definitely sparked the children's interest in storytelling. You also taught us ways we can be caretakers of our forest, so thank you for joining us and being part of our class community.
We have been fascinated with mushrooms as we see so many in the forest every day.  Juliet and James who are mushroom experts came to join our class for the morning and taught us about the mushrooms we have been finding! We learned that some mushrooms have gills and some have teeth! We also learned about what mushrooms can be used for! Did you know that there is a mushroom that can eat a Springtail?
We also have a big buddy class this year that occasionally comes out into the forest with us! On the last day they joined us in the forest, we created our names out of nature! The best part about our buddy class joining us out in the forest is how much we can teach each other!
A big thank you as well to Shirley Alphonse! Shirley is a First Nations Elder who works in our district and recently she was able to come and blessing the forest for us and teach us a little SENCOTEN. We are thrilled to learn more from you and have you as part of our class.
Last week we also had Jeff a drummer, teach the children a canoe welcome song. All the children got the opportunity to drum and join in on the songs. Having passionate experts from our community come and be part of our class and teach the children is a very important part of this program. We feel very fortunate that so many enthusiastic community members are willing to come and share all that they know.
Written by Nature Kindergarten ECE, Erin Van Stone